About MyMemory
MyMemory is a leading online retailer offering wide range of USB devices and phone memory products at lowest prices. The store offers a wide range of accessories for mobile devices such as memory cards, Bluetooth accessories, Bluetooth car kits, Bluetooth headsets, Bluetooth speakers, iPhone cases, mobile cases and much more. If you are an avid gamer then you would be happy to see a whopping range of game consoles such as Nintendo DSi, Wii, WiiU, PC gaming, Sony PS3, Sony PS4, Xbox 360 and many more types of gaming accessories.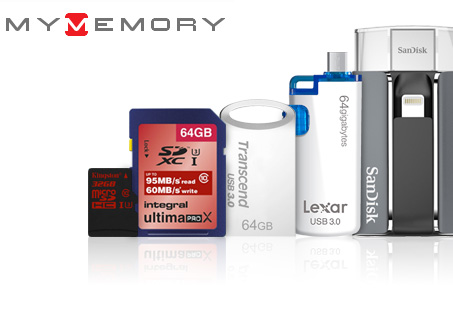 At MyMemory, you get almost every computer accessory you will ever need.You can purchase portable storage drives, computer RAM, laptop accessories, networking accessories, PC components, ink cartridges, PC software, Hubs and many more things.At MyMemory, you can rest assured about the quality of the products as the store stocks products of all reputed brands.You can find a fabulous range of products from brands like Kingston, Lexar, SanDisk, integral, Transcend, and many more. At MyMemory, you can also purchase camera accessories and other electronic items.You can get almost everything you need for a home theater setup such as audio video cables, remote controls, TV brackets, voice recorders, TV wall brackets and many more items. Check out our site for exclusive savings on computers as well as accessories from top stores like PC World and Lenovo at discounted price.
Discounts On Your Favourite Products
Warehouse Sale: Warehouse Sale at MyMemory gives you an opportunity to purchase SD cards, audio video accessories, electronic items and whole lot of other things at amazingly low prices.The discount on different item varies and you can save up to £10 or more on some purchases.The store offers discounts on various categories such as memory products, headphones, games and much more. The sale also lists products from brands like Kingston, Canon, SanDisk and several others. If you are fan of electronic or Smartphone accessories, the Warehouse Sale at MyMemory is the place to be.
Free UK Delivery: MyMemory offers free delivery in UK. The prices on the website include delivery charges so you don't have to worry about shipping charges.

Varied Promotion Offers: The store gives its customers several unique promotion offers that are not found elsewhere. Some of the promotion offers worth mentioning are offers on networking products where you can save even on purchase of new products. In some promotional offers in networking category, you get the product at half price. The promotional offer on power banks gives you two power banks at £20. There are several promotional offers where you get higher discounts when you purchase two items of same category or type.