---
---
So, you have finally found the person of your dreams, the one you wish to spend your life. Now that you are in a relationship already, how is it that you make the next leap? It's a moment that will redefine both you and your partner's life. Also, a big step that needs to be taken with careful consideration and the whole thought. Proposing your significant other will make one sweat. Even though you know that your partner will say yes but mustering the courage to speak the words remains a daunting task.
The other significant problem is finding a unique way to propose the love of your life and also doing it on a budget. Because the truth is, not everyone can afford to manage it, and some of us still have modest means. In this post, we have mentioned some affordable ways to propose your partner: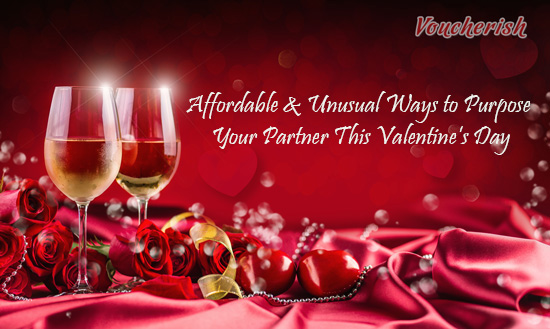 1. It's a Small World:
The place where you and your partner first met always has an important significance. So, why not take her back to the same place again and propose? You can take her to the same spot where you first met on some pretense and pop the most important question of your life to her. What better way to become fiancee than the place that first made you both friends? A simple, cost-effective but personal proposal. If you are looking for a private place to pop the question, book your dream destination at Booking.com.
2. Scavenger Hunt:
An affordable but a little challenging way of proposing your partner is searching for a place where both of you met. You will first need to think of a few places that are meaningful in your relationship. It could be the first coffee place where you guys went for a date or the place you shared your first kiss. Have a few friends and relatives who can help you here. They can stand at all these places giving her clues for the next one. You can try out fun and creative ideas of what those places meant to you and your relationship. Once your significant half manages to complete the scavenger hunt, you can then propose with all the friends and family gathered around.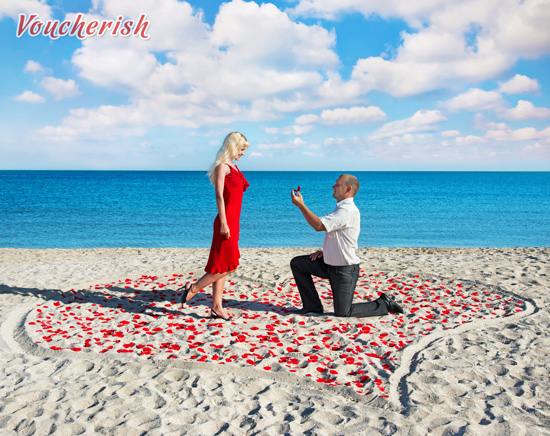 3. Pet Peeve:
What better way to convince the love of your life to say yes than have your pets take the proposal to them? You can be as creative as you want here. Maybe stick a small placard on the pet where they propose on your behalf. Asking for your partner's hand this way will add a sense of sincerity to the proposal.
4. A Quiet Proposal With Friends & Family:
If your better half is the type who is close to their family, then you may very well involve the family and get them to help you with your proposal. Sharing such personal moments with friends and family is important. You can try handing the family a sign that says "Dance Forever" or "Will you marry me?" Surprise is a key at such moments, and you need to be able to take your partner off guard with the whole affair.
5. A Surprise Message:
If you have been in a live-in together or she has the keys to your place or vice versa, you can surprise her with a proposal. Maybe get some chart papers and jot down different notes on them, about your relationship. You could write with lipstick on the mirror or write on the bedroom ceiling with glow in the dark stars. Once they get into the room, your preparation is the first thing they could see.
6. Create a Trail of Flowers:
You can try creating a path to the engagement ring here. Make use of flowers for this endeavor which leads them to the bedroom. Rose petals or any kind of flower is good for this. The path leads to the room with the ring, and you can decorate the bedroom in a romantic way as well. This would mean getting balloons that spell "Marry Me" or carving the words "Will you marry me" with the help of rose petals on the bed. If you are planning on using a lot of flowers, then it's better to make use of a flower dealer. Check out the Prestige Flowers and get maximum off on all products.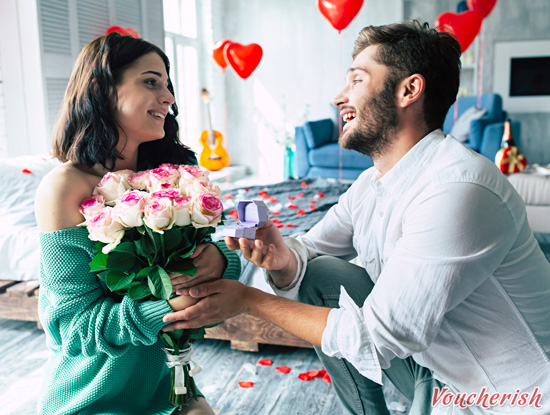 7. Matryoshka Dolls:
It's a method that will undoubtedly lead to some laughs but definitely worth it. Wrap up the engagement ring inside several different and bigger boxes in the form of Russian nesting dolls. Now watch the drama, as she unwraps every layer only to find another box in it. Once your significant half reaches the last box, get down on your knees and propose.
Now you have a list of ideas on top of your head with regards to the proposal, it is time to think the ring through. Check out different places and also figure out the size and ring of her choice. Good luck!