---
---
Shoes are a reflection of a gentleman, and for old schooners, the saying about judging a person on the basis of their shoes says a lot. Within the UK, though, there has always been a rich legacy of shoemakers and fine craftsmanship that has gone on to date. This is definitely one of those domains where the Brits have dominion. If we are to look at statistics in recent years, the sales for indigenously made shoes have grown substantially.
In this post, we have five best shoe brands that should be essential for your wardrobe this winter:
1. Grenson:
Grenson, as a brand, has had a rich legacy. This was a company formed back in 1866 and has continued to date known for its great quality for the past 150 years. Grenson is known for more of its Brogue designs, which are regular amongst big business icons. The company has also got in the business of making sneakers in recent years, but their originality still stands in making Italian leather, nubucks as well as suedes. All their products are available on their official website, and most orders take anywhere between two to three weeks. These are a pair one definitely ought to have in their wardrobe.
 2. Timberland:
Timberland is synonymous with the shoemaking business as one of the biggest aggregators having a loyal fan base and following. What made the company famous in 1973 was their original yellow boot that sort of became its hallmark. What was instrumental in the success of the company was its revival by hip hop artists in the '90s. The company hasn't looked back since. Today, owning a pair is no less than a privilege, and there is a big range to choose from right from sneakers, boots, shoes. Timberland is known as a fashion staple that is also both uncompromising in terms of quality and stylish by all accounts. If you are looking to invest in shoes for yourself, the holiday season is the best time to go about it. Now get up to 40% off on all shoes on Bang Good.
 3. George Cleverley:
George Cleverley is another big name in the industry that has a rich legacy of making its own shoes by hand in their old workshop based in London's Royal Arcade. If you go by its history, this is the company that has carved out the best pair for Winston Churchill himself. His was a request peculiar at the time as Churchill wanted shoes that needn't need any tying up any time he put them on. George Cleverley was put at the helm of this task, and Churchill went home a happy man. All George Cleverly shoes come made to order and may take an ample amount of time to make, which can include almost half a year.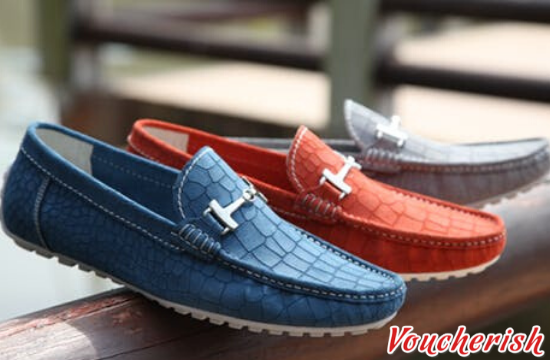 Such is the level of craftsmanship and fine detailing the company caters to. When it comes to repairing, the company even undertakes that till date with a pair dating back from 1968 coming for repairs. Razzle and dazzle this year by getting your favorite pair of shoes from Hot Mess. Also, make sure to collect your gift voucher and footwear by heading to Voucherish.
 4. Barker:
Barker is a household name in the UK and is famous for its architect and patriarch Arthur Barker, who made the first waterproof peg-sole. This became so big that soon Arthur Baker started having a humongous demand for his creation, which he couldn't solely do on his own and had to take the help of neighboring craftsmen in the area to help deliver on the huge demand. Needless to say, he delivered and delivered well. This was the ascension of Barker as one of the top dogs in the business. The company has since then maintained that fine quality. Today they are known for their suave style that sees seekers from across the globe. Barker today has a plant that spreads 4.5 acres in the small village of Earls Barton. On a rough average, the company produces close to 200,000 pairs every year for its customers.
5. Wolverine:
If you are hunting for a sturdy pair of shoes at half the price than normal brands, then Wolverine is a brand that you definitely ought to seek. The brand is famous for making its own line of motorcycle wear that delivers to the likes of Harley Davidson. The company is known rather for its famous 1000 mile range that has its roots in the 1900s that has quite a reputation for lasting a 1000 miles before you have any sort of wear and tear. Well, that's promising a lot, but the company stands behind this.
So, there you have a collection of the five best shoe brands that you can invest this winter and be a highlight wherever you head out.