---
---
Sicily is a stunning travel location and one of those places that you have to experience at least once in your life. The island on the western coast of Italy offers a rich cultural heritage and plenty of culinary experiences. So, what is Sicily like and how to have a fun, budget-friendly holiday in this beautiful place? Here is the traveller's guide to making the most of your time in Sicily.
When To Go?
Sicily is best experienced either in the early spring/summer or later in the autumn. If you pop by during the weeks from May to June and you'll get a lot of sun and warmth, but without it being overwhelming. While this is starting to see the tourists flock into the area, it's not the busiest of seasons. If you don't mind exploring the island in a cooler air, the September to October season is definitely worth keeping in mind, offering plenty of cheaper flights and accommodation in the area. If you are not looking for the sun and a little rain doesn't bother you, then Sicily is a beautiful during the Christmas months with plenty to see and experience. You definitely want to avoid August, as it's the most expensive time to travel to Italy, since the country is on holiday-mode.
Where To Go?
The most popular destination is the city of Palermo, which is great for a quick getaway. The city offers beautiful, but crumbling architecture and plenty of culinary discoveries. You can also enjoy a more relaxed time at the twin Petralia towns, Sottana and Soprana.
For something outside of the mainstream, you should head down on the east side of the island. You can fly to Catania airport from many European cities and experience a less touristy part of Sicily. The province of Enna offers plenty of scenic scenery, with its secluded castles and historical architecture.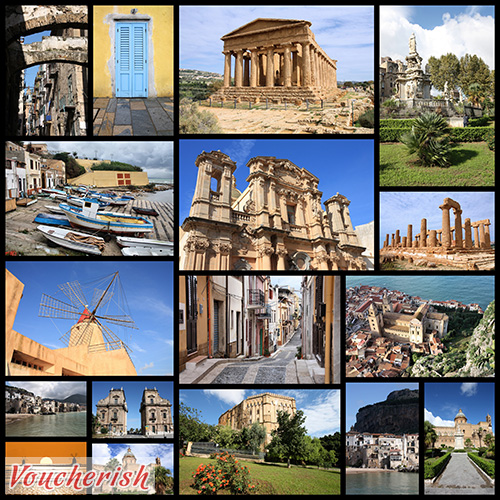 What To See?
For the most dramatic impact, you don't want to miss the lava-bursting Etna. The mountain area offers lava-hewn rock churches and colourful, vibrant plants in a unique setting. The mountains of northern Madonie are also worth checking out if hiking is your thing.
If you are after history, then the town of Toarmina is worth exploring. The medieval settlement is like stepping back in time, offering you plenty of dramatic scenes on top of the local delicacies. In Palermo, you should head down to experience Piazza Marina and OrtoBotanico. The cathedral at Monreale is another must-see experience. You shouldn't exclude the UNESCO heritage sites either.
What To Experience?
Sicilian culinary experiences should be on top of your To Do-list. We recommend getting your hands on the cassata cake, which is a combination of ricotta cheese and glazed fruits. You should also visit the vibrant food markets and taste the different pastries – Palermo's Pasticceria Maria Grammatico is a must-try experience. Another food item to add to your list is a mouth-watering panelle, which is a fried bread made from chickpeas. Naturally, you shouldn't forget about tasting the local wines.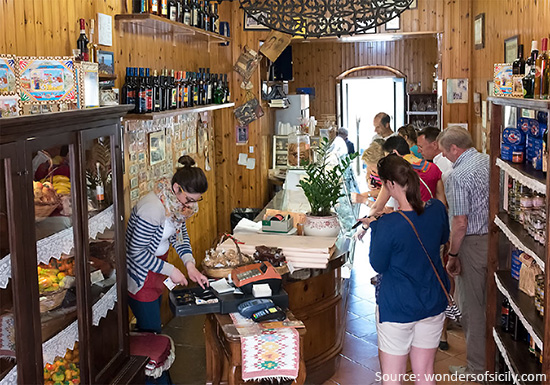 If you want, you can time your visit during the Festival of Sant'Agata Catania in February or the Festival of Santa Rosalia in July. The streets will be filled with unique art displays, gastronomic treats and lively music.
What To Remember?
Although Sicily is relatively peaceful and safe location, you want to take the same precautions as you would travelling to any other European city. Pickpocketing does happen and there are certain areas, especially in Palermo, that you probably don't want to visit. While you might be tempted to strike a conversation about the Italian Mafia and its history, you probably want to avoid this. This is not because you'd be in danger of being caught in the middle of organised crime, but the locals aren't fond of discussing the topic.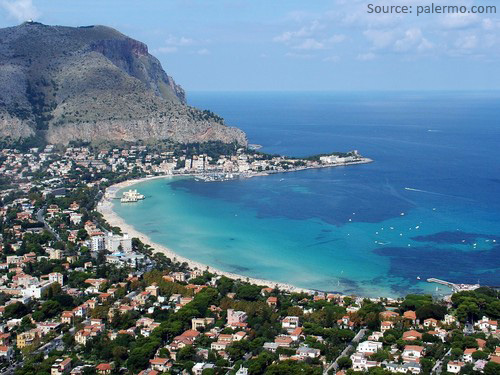 You should also be prepared to find plenty of locations where Sicilians are not as good in speaking English as you might think. The people are friendly, but it's a good idea to have a translating app or something similar with you to help sort out any situations you might run into.
Finally, renting a car is a fantastic way to see the island. Rent only from respected service providers and remember to be careful with where and how you park. Be aware of people asking for money as "parking assistants" – these might be criminals and scammers. The best option is to just pretend you don't understand and leave. The traffic can be rather hectic, so be careful!
Sicily is a beautiful island to experience and it can offer plenty for solo travellers, couples and families. Just like with any other destination, planning is the key to a successful trip and the above tips should steer you in the right direction. All you have to do now is to book your holiday and enjoy your time!