---
---
Planning to head out for a run in the cold weather can sometimes send chills, but if you know how to layer up properly and effectively, this could be just like any other day. The key is to dress rightly for the occasion. Getting fresh air and keeping to your schedule is an integral part of staying fit. While cold weather can be an obstacle for you to reconsider your running regimen, there are many ways you can ensure that you are up top with it. In this post, we will tell you the 5 best ways you can layer yourself for running in the cold weather:
1. Make sure the inner layers wick away moisture:
Merely piling on layers will seldom help with your running endeavor. The layers ought to be there to trap your body heat and wick away any kind of moisture in your body. Our bodies tend to perspire when we run, and the last thing you want is for moisture to stick to your skin. This can make your running even more of an uncomfortable thing, and the last thing you wish to get is cold because of a simple mistake like this. To ensure that this winters, you invest in some moisture-resistant clothes for yourself.
 2. Underdress a few degrees:
You ought to dress for warmth and not deck up like you are climbing the highest summit. As you run, your body temperature tends to increase, and wearing too much will only get you hot for no reason. A general rule of thumb to follow here is to underdress lightly. If it feels like a 25 out there, make sure you dress for a 45. Adjusting by 20 degrees help you compensate accordingly. Your body will be heating up as you run to compensate, and unless it gets windy out there, you can follow this instead of layering up too much. Looking to get great deals on fitness clothing and apparel? Head to vouherish and get up to 50% off on all outdoor terrain goods.
3. Avoid cotton socks:
Make it a point never ever to wear cotton socks be it winters or summers. Cotton socks don't wick away moisture, which in turn leaves you more prone to wet feet and blisters. Instead, go for wicking socks that are made of acrylic or wool. If you are planning on wearing thicker socks for the winter, you will also need to buy running shoes that are half a size larger than your standard size. Get the right shoes for running this winter. Go to Lifestyle Sports and get Adidas shoes for €100.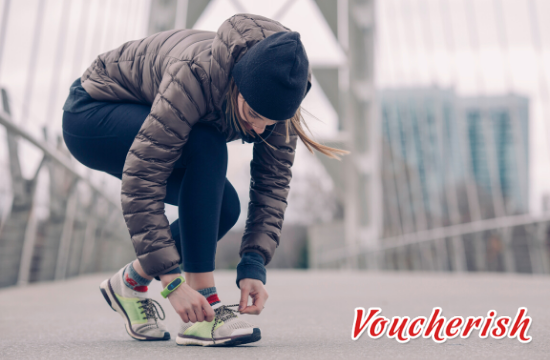 4. Cover your extremities well:
Your extremities are the first things that lose circulation in cold temperatures, and that's why you have to make it a point to cover these. This includes gloves, a neck gait, and a headband. Running without covering your extremities is a sure shot way to cause a loss in sensation and more dangerously frostbite. Hats and gloves are, therefore, a must-have since your circulation in your hands worsens as your body works harder. A running headband is of great use to keep your ears warm without acting too much as insulation. Winters' hats aren't that useful as they tend to overheat easily. Get yourself a baseball in place of that.
5. Get the right tights to wear:
If you are running in a place with single-digit temps, then it is considerable you go for fleece-lined tights. You can even go for a second loose-fitting pair of tights on top of that. If you are heading anywhere between 20-40 degrees, a standard and regular full length tight will do more than fine.
6. Wear the right jacket:
Breathability and insulation are equally essential, and depending on the temperatures you stay, make sure to get the right jackets for yourself. A windproof outer shell jacket comes in many variations and is a preferred choice when it comes to layering yourself. Also, a vest is a good idea if you wish to keep your core warm.
7. Layer as per the runs you are having:
The comfort level of your clothes depends on a variety of factors, including the kind of chill there is and how fast or long you choose to be. There are various online articles that tell you the exact kind of clothing as per the temperature you wish to run. Layering this way will ensure that you stay out of the cold and get your running done in peace without any discomfort.
So, there we have the top 5 ways you can layer yourself for running in cold weather. So, get your groove and your winter clothing ready. Being a little smarter and doing your research can make all the difference in your running endeavor.