---
---
For many people, camping is an activity you do in the springtime or the summertime. But as soon as the weather starts getting colder and the nights get darker, most people back up their camping equipment away. However, camping is actually rather nice in the autumn – you'd be surprised how much you might enjoy it. If you are into camping, then here are six reasons to love camping in autumn.
Reason #1: Getting Inside Your Warm Tent Is More Rewarding
Overall, camping is more enjoyable and, in a way, satisfactory during the autumn season. There is something special about sneaking inside a tent after you've spent the day in the crisp autumn air. You can put on woolly socks and snuggle inside a warm sleeping bag – it feels like you are much closer to nature and one with the scenery. If you top this off with being able to enjoy a hot cup of warm cider or beer, then you won't ever stop camping in autumn.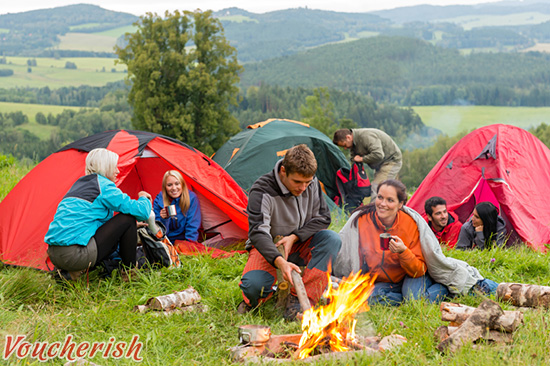 Indeed, the autumn produce with its tasty soups and hearty stews is another reason why camping in autumn is more fun. You have rich flavours and eating hot soup near the fireplace when the stars are out and the air is chilled is just magnificent.
Reason #2: You Can Find Tasty Wild Berries And Mushrooms
If you've never combined foraging and camping, then now is the time. Autumn is a fantastic way of treating your taste buds with wild berries of all sorts. Depending on your location, you could enjoy blackberries, lingo berries, and the like. In most camping areas, you don't need a special permit for picking these wild berries. Pick the berries with you and take home to make tasty jams or bake them into muffins.
You can also forage wild mushrooms. Mushrooms are a tasty and healthy food item that adds a lovely flavour to soups and other dishes – they are even a great addition to your homemade pizza.
Reason #3: Campsites Are Less Busy And Often Cheaper
You can also benefit from the common exodus of campers in popular camping destinations and sites. During the popular summer months, most camping spots are full of other campers – you might sometimes have to book your spot in advance. It also doesn't always feel quite as secluded when you have ten other campers waiting for their turn to cook on the fireplace.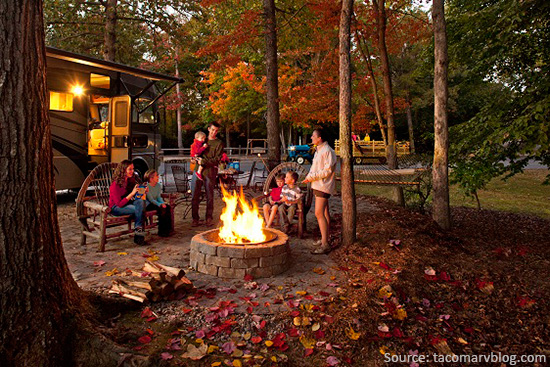 But in the autumn, the business disappears as people head indoors. This means you get to travel to many camping sites without meeting too many other people. It's not just the quietness that will draw you to autumn camping – the prices also drop. Many locations have special autumn campaigns, which could provide you with some stunning camping trips in the biggest parks of the country, without spending a fortune. For example, Park Resorts always has a range of offers when summer is coming to its end.
Reason #4: The Weather Is Perfect For Hiking
Autumn might seem like a cold and rainy season, but it's actually rather pleasant in terms of hiking. You don't need to worry about getting as hot and bothered as you do during the summer heat. However, you'll still get plenty of sunshine to restore your vitamin D levels while walking. The air is often a lot crispier as well – breathing can be easier because pollen count is lower and the rain has ensured dust isn't floating around.
Reason #5: Nature Looks Stunning In Vivid Colours
Autumn is actually one of the most colourful seasons. The leaves transform into all sorts of luscious shades and colour the landscape like a watercolour painting. The greens of the trees transform with the ground being covered in autumn berries and fallen leaves. The scenery becomes rather calming and therapeutic. If you've never done nature photography in autumn, you might want to get started now.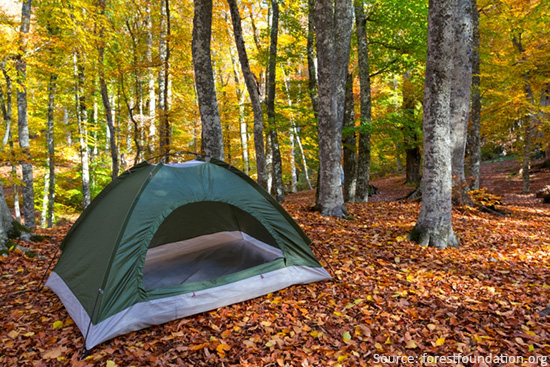 Reason #6: Bugs And Insects Disappear
OK, so you don't get rid of all bugs and insects in the autumn but you do get to enjoy a more bug-free camping experience during this season. Insects start heading out for warmer climates or they find a snuggly spot to hibernate. This all means you get to enjoy hiking and sitting near the fire without having to spend tons of money on sticky and smelly bug sprays. Not to mention you can return home without having your body covered in bug bites. Even the kids will rather go camping when they don't need to worry about mosquitoes.
Autumn camping is definitely worth trying. Right now, it's cheap as well with retailers offering camping equipment at cheaper prices. Find tents, camping equipment and hiking clothing from retailers like Go Outdoors and Great Outdoors Superstore. You can then find your favourite camping location from the UK Campsite website and plan for the ultimate autumn getaway.