---
---
Home décor can be an endearing idea and something that can either leave you happy but yet perplexed. With a wide variety of choices available in the market, it is a task to choose the best option when it comes to home décor. Sometimes, you are also bogged down with a limited budget and an even lesser time. So what do you do at times like these? In this post, we have compiled a list of top 7 home décor DIY's that you can make use of to redo the home of your dreams.
 1. Put those bottles to use:
Who says your empty wine bottles belong in the trash? There is a wide variety of uses for these bottles, and all you need is a little spark of an idea to get them to work for you. While using them as a vase is a basic standard idea. You can do several things in the form of spray paints or decorate them with laces or twines. These can be used in several ways around the house, including a decorative light holder, centerpieces, as well as vases and planters.
 2. An entryway to your casa:
If you are limited with a space constraint in your home and don't have a grand foyer to decorate it, you can make use of a small console table to complete the effect. You can go for a number of choices when it comes to a console table. A good suggestion is to opt for a small traditional table and use some abstract art for a better look. Also, rather than hanging some portraits across the wall, you can put them against the wall. This would provide a more laidback look to your gallery wall and home.
 3. Sheepskin much:
If you have a corner of your home that isn't looking that appealable than something like sheepskin can work wonders. Contrary to popular opinions, sheepskin doesn't cost much and is affordable to make on your own as well. And also, it provides warmth and texture to your home. After all, all you need is a comfortable space at home to lounge at. The best part about this, it provides a neutral tone and adds depth to your surroundings. Creating something of your own shouldn't be a challenging endeavor. Now get up to 49% off and free delivery at UK Tool Center.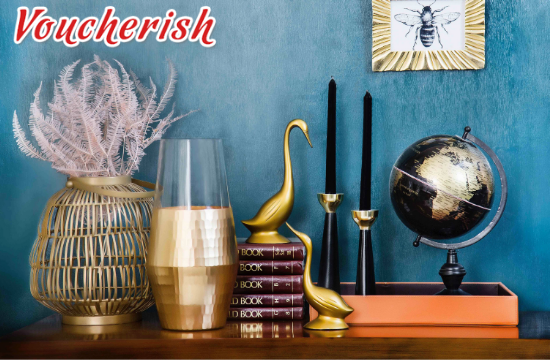 4. Don't overlook your small spaces:
Tiny spaces in your home, like your powder room, are often the most overlooked parts. More so often, this happens because these are relatively tiny and aren't enough to put in décor. What if we told you that it's indeed possible to decorate your home and those small spaces. Ensure that you use only light tones to decorate the small spaces like blush pink. You can then add a multitude of things like small artworks across it. These add another layer of nuance to your room and home overall.
 5. Pegboards for home:
A common mistake made by millennials is making use of add-on shelves to your home space, which feels more like clutter to your wall than something like a décor. How about you change the tone of add-on shelves with something equally better? We are talking about DIY pegboards of course. These can be used as a giant wooden wall covering and also used as an additional space for a myriad of things at your home. This includes mirrors, frames, plants, vases, etc. There are several online tutorials that can help you with making these DIY pegboards.
 6. Brookside table stand:
Almost all of us have complaints about our available books and encyclopedias that are just taking up space in your home. Now you can finally put them to good use, making them as a side table. All you will need for this is your old set of hard covered books and nail frames to the table's underside. You will need to cut trim here in order to form a box frame. Use a tabletop to complete the effect and paint the top part of it as per your preference. Now drill a hole the size of a dowel through each of the book's center. Finish this with glue to the center. Now you have a beautiful table stand that can be a highlight in every room of yours.
7. Pin-up boards:
Pin-up boards go perfectly with every kind of setting. All you need to do is get a rectangular piece of wood, some scrap cloth, and cotton. Cover the entire thing with some soft fabric and glue this thing together. You now have a cozy pinboard that has a multitude of purposes. DIY kits can be a costly purchase, especially when you don't know what all to get for yourself. How about getting a coil master DIY kit for €39.98?
So, there we have the top 7 home décor DIY's that you can use in your home and make it a standout.